As a partner of CYBERDYNE Inc. [Tsukuba, Ibaraki, CEO: Yoshiyuki Sankai (the "Company")], Malaysian Public Social Security Organization ("SOCSO"), have expanded Cybernics Treatment to 4 major sites in Malaysia, installing each types of HAL that adds up to the total of 60 units. All employees in Malaysia is entitled to Cybernics Treatment with zero patient cost, due to the public social security's system of SOCSO.
*SOCSO (Malaysian Public Social Security Organization)
SOCSO has four functions: disability pension, survivor's pension, medical coverage and occupational injury coverage, and is compulsory for Malaysian and foreign workers in Malaysia to join the program. It provides medical compensation, disability compensation, funeral benefits, child support and nursing care benefits for illness or injury that occurs while commuting to and from work.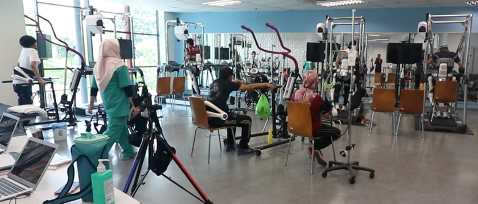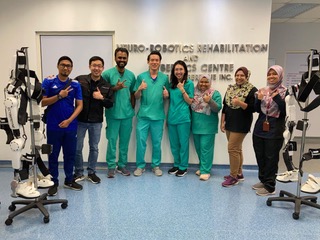 Cybernics Treatment Center at SOCSO Reha Center in Melaka
As of the end of September 2020, HAL is being used in four of Malaysian medical institutions such as Melaka, Kuala Lumpar, Kuala Terengganu and Kota Bharu. In the four facilities, total of 60 HAL units (18 units of HAL Lower Limb, 24 units of HAL Single Joint and 18 units of HAL Lumbar) are being operated every day and the Company schedules to expand the treatment technologies to more facilities.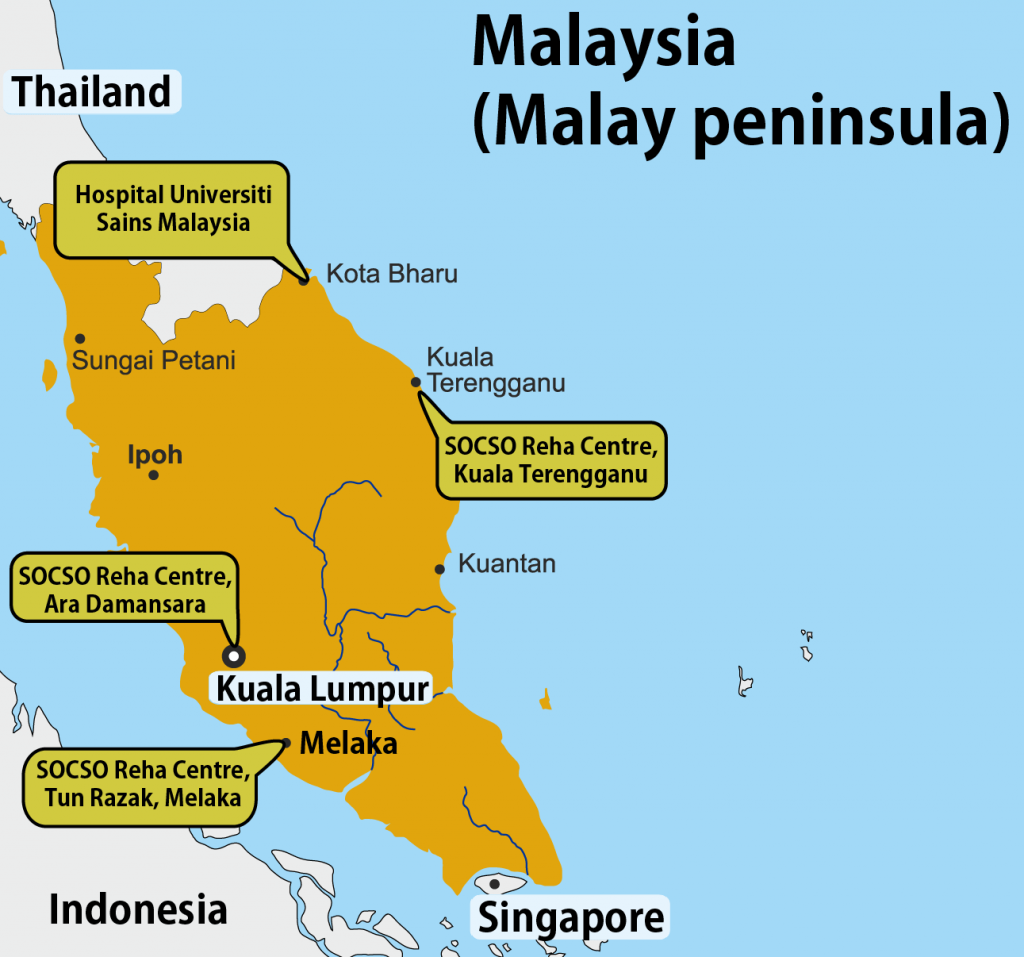 Map of Cybernics Treatment available in Malaysia as of end of September 2020
Southern part (Melaka)
SOCSO Tun Razak Rehabilitation centre, Melaka
https://www.facebook.com/rehabperkeso/posts/live-from-our-neuro-robotics-rehabilitation-and-cybernics-centrecyberdyne-robot-/2113594248716091/
Central part (Kuala Lumpur)
SOCSO Rehabilitation Centre, Ara Damansara ADMC
https://www.facebook.com/rehabperkesoADMC/photos/?ref=page_internal
Eastern part (Kuala Terengganu)
SOCSO Rehabilitation Centre, Kuala Terengganu
https://www.facebook.com/rehabperkesoKT/photos/?ref=page_internal
Northern part (Kota Bahru)
Hospital Universiti Sains Malaysia
http://hospital.usm.my/v4/index.php/en/berita-utama/125-berita-2020/1247-cyberdyne-harapan-baharu-pesakit-kehilangan-upaya
The Company will continue to work closely with SOCSO to expand Cybernics Treatment as an innovative medical technology that originated in Japan, to all parts of Malaysia in order to establish an ecosystem that could not only improve the physical function of the patients but also to help them return to their work place or where they wish to belong. The Company will aim to realize a healthy and longevity society in which all people can enjoy healthy and prosperous lives.
Links
May 16, 2019
"Neuro-Robotics Rehabilitation and Cybernics Center" established in Malaysia
https://www.cyberdyne.jp/wp_uploads/2019/05/20190516_PR_ENG.pdf
August 16, 2019
Agreements to accelerate the promotion of Cybernics Treatment with Wearable Cyborg HAL in Asia
https://www.cyberdyne.jp/wp_uploads/2019/08/20190816_PR_Malaysia_ENG.pdf