■ADMISSION

Admission:JPY 1,000
■Discount
More than 30 persons

discount of JPY 50/person

Group of students

discount of JPY 100/person
■Contents
Guide tour of CYBERDYNE STUDIO
Watch the original movie of HAL®
Original souvenir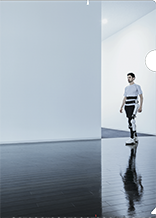 Souvenir
* Reservations must be made one month in advance.
* Minimum participants per group is five.
Contact the following if the group has fewer than five or more than 40 participants.
* For buses, prior application for parking is necessary. Please inform our staff of this need at the time of reservation.