CYBERDYNE USA Inc. (from now on referred to as the "US Subsidiary") exchanged the basic agreement with RISE Physical Therapy, Inc. ("RISE") to purchase their business (The "Acquisition Agreement"). RISE is a rehabilitation medical institution that runs 16 outpatient rehabilitation clinics in California, USA. Following the Acquisition Agreement, RISE will become a consolidated subsidiary of CYBERDYNE Inc. (The Company).
1. Purpose of the acquisition
The Company obtained clearance from the U.S. FDA in October 2020 for its Medical HAL Lower Limb Type as a clinically safe and effective medical device to treat stroke and progressive neuromuscular disease as well as spinal cord injury. Furthermore, its Medical HAL Single Joint Type was also listed on the U.S. FDA as a Class I medical device for various cerebral nervous system diseases and movement disorders due to orthopedic conditions. Following these events, the Company is preparing to offer Cybernics Treatment utilizing HAL to all areas of the USA, the largest market in the world.
As the first step, the Company has been discussing terms of acquisition with RISE, a rehabilitation group that was quickly growing in the southern region of California. The Company will add Cybernics Treatment to the current service lineup of RISE so that patients can get easier access to this new treatment technology. The Company will speed up the dissemination of innovative Cybernics Treatment in this world's largest market by offering this service through RISE.
2. Outline of the acquisition
After signing the acquisition contract, the US Subsidiary will set up a new company, "NewCo," and hold 80% of issued shares. Because NewCo will be assigned to supervise and manage the business of RISE, RISE will become a consolidated subsidiary of CYBERDYNE Inc.
3. Outline of NewCo (Scheduled)


4. Outline of changes in subsidiaries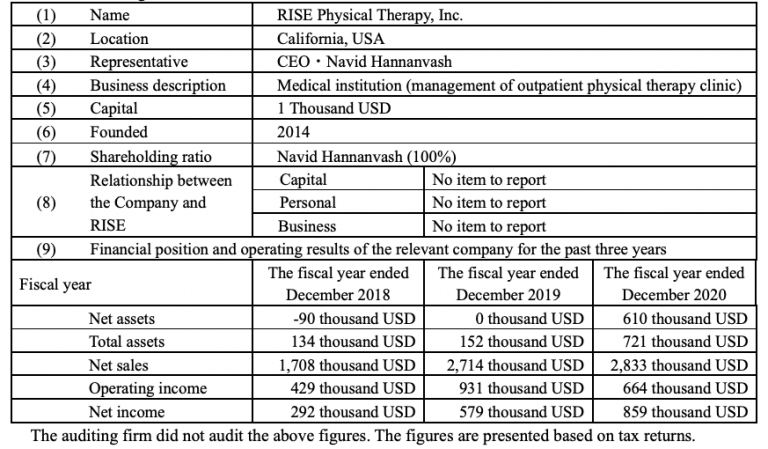 5. Outline of the counterparty of the acquisition


6. Number of shares to be acquired, acquisition price and status of shares held before and after the acquisition


7. Schedule


8. Prospect
As a result of this acquisition, NewCo and RISE will become a company's consolidated subsidiary from the nine months ending December 31, 2021. The impact of this acquisition on the Company's consolidated business performance towards the fiscal year ending March 31, 2022, is currently under scrutiny and will be disclosed as soon as there is a need to do so.